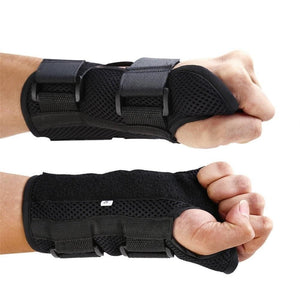 Carpal Tunnel Arthritis Tendonitis Wrist Support Brace & Night Splint
Includes a removable contoured aluminum palmer stay which helps control wrist flexion. The stabilizing splint helps with providing a rigid structure to keep the wrist from excessive movement.
HIGH GRADE CONSTRUCTION: Breathable, moisture-wicking material is durable, soft, and latex-free.Durable and lightweight, making it ideal for daily movement and low-impact activities.
ERGONOMICALLY DESIGNED: Supports weak or injured wrists while maintaining full range of movement of thumb and fingers.
24 HOUR COMFORT: Lightweight and comfortable for all-day wear and night use. Velcro strapping helps provide an anatomically correct fit, ensuring proper support.
The Brace Professionals™ Wrist Brace is intended for those suffering from Carpal Tunnel Syndrome (CTS), Cubital Tunnel Syndrome, Repetitive Strain Injury (RSI), Arthritis, Tendonitis, Wrist Sprains, and other types of Wrist Injuries.
Maximum Support, Minimal Interference
If you suffer from pain, weakness, or numbness, then Wrist Braces braces are often the first line of treatment recommended by doctors.
Wearing a wrist brace can help prevent wrist injuries from occurring or help support the wrist after an injury. They do this by stabilizing the wrist area and preventing the joint from moving unnaturally or out of place.

Bought before lasts a long time,work's great!
One Ladies opinion
She wears it most of the day to help with relief from routine chores and it helps.
Significant relief when worn during sleep. wakes up pain free with no issues.
My mom has been using these braces for two weeks. Says the pain in her hands is less than when using her other braces. She is relieved that they are helping.
Great wrist support
Works well with crocheting activity.