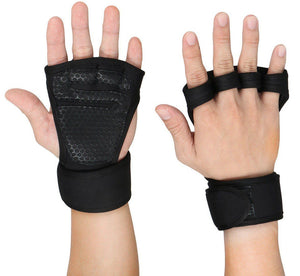 Padded Weightlifting Hand Grips
SEE SIZE CHART IMAGE FOR PROPER FIT!
FULL PALM PROTECTION * No more torn hands and no more calluses. This premium weightlifting glove covers the entire palm. Made of Silicon Printed Neoprene, a high-quality material that is resistant to water, dangerous chemicals, oils, heat, and aging making for a long last durable pair of gloves. LESS RIPS AND TEARS, MORE REPS & STRENGTH!
BUILT-IN WRIST WRAPS * Experience these uniquely designed weightlifting wrist wraps that offer both men and women a superior training experience and superior wrist support with each and every workout. 
EXTRA TIGHT GRIP * Discover the one-of-a-kind palm design of Silicon Printed Neoprene for extra grip on the barbell, pull-up bar, muscle-up rings, kettlebells, and more! Triple your work load with no rips, tears, or calluses.
REDUCE INJURIES – The best Crossfit gloves for WODs, weightlifting, and overall fitness, the breathable neoprene helps reduce sweat to keep hands dry and free from calluses and sores.
ENHANCED GRIP
The flexible neoprene gym gloves feature reinforced silicone-padded palms to improve your grip strength and control over lifting dumbbells, barbells, and free weights.