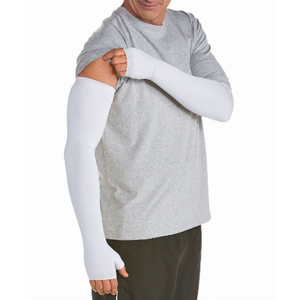 UV Protection Arm Sleeves - Cooling SPF 50 Sun Sleeves
BLOCKS 99% OF UVB & UVA RAYS
Great for Golfing, Fishing, Hiking, Driving & Walking the Dog
Cooling & UPF 50 protection: With innovative cooling technology & UPF 50 protection to block out over 99% of harmful UVA & UVB rays, the Tough Outdoors' Cooling Sun Sleeves are more than your average sun sleeves. Recommended by the Skin Cancer Foundation
For all sports & outdoor activities: Designed for long, hot hours under the sun, our lightweight arm sleeves will keep you comfortable whether you're running, golfing, fishing, playing basketball, cycling, hiking, driving or even gardening
Seamless comfort: Unlike other sun sleeves that make you itchy and leave imprints all over your arms, these sun sleeves are seamless. We make sure you'll be comfortable and happy
Stretch fit and washable: Our sleeves are incredibly durable and stretchy. Easy to machine wash and hang dry. Our stretchy 92% nylon 8% spandex blend make them perfect for both men and women. Sold as 1 pair
Protective Tattoo Cover: Cleverly cover your tattoos and reduce their visibility temporarily for professional reasons or to avoid sun damage. 
Moisture & Sweat Wicking - Breathable Ventilation
All-Around UV Protection: No need to worry about getting sunburnt. With the newest UPF 50 protection technology, Our arm sleeves block out over 99% of all harmful UVA and UVB rays and set you free from sunscreen. They provide all-around sun protection for your arms when you are golfing, cycling, driving, or fishing outdoors in the hot summer. 
Arm Sleeves
I have a pair in white and that's why I ordered black ones.
Very nice quality at a good price!
The uv protection arm sleeves are great. Will probably order additional colors.
Thanks, gets the job done.
Very good product. Customer service is amazing .
Uv protection arm sleeves
It is my first time using this kind if product. It works for me. I like it.