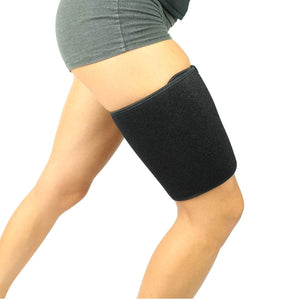 Quad, Hamstring, Groin Support - Thigh Compression Sleeve ~ Targeted Relief!
INJURY SUPPORT: The Brace Professionals thigh wrap brace is perfect for aiding in recovery from injuries to the groin, quad or hamstring, it provides soothing compression relief which increases blood flow and reduces recovery time, to heal your thigh cramps & thigh problems
EFFECTIVE THIGH SUPPORT: Providing targeted compression therapy, the thigh brace supports the hamstring and quadricep while aiding in the recovery of strains and pulls. Secured by dual velcro fasteners, the adjustable compression wrap is constructed with a latex-free, nonslip neoprene for exceptional support throughout any activity. 
RELIEVES STIFF & SORE MUSCLES: Increasing circulation and retaining therapeutic heat, the compression support wrap relieves stiff and sore thigh muscles. 
LIGHTWEIGHT, BREATHABLE NEOPRENE: Lightweight and breathable, the latex-free neoprene wicks away moisture for comfortable wearability. The slim neoprene wrap can be worn under or over the clothing. 
VERSATILE NONSLIP FIT: Two premium elastic straps with velcro closures allow the stretchable hamstring support to be adjusted to fit thighs up to 27" in circumference. The nonslip neoprene stays in place throughout the day without sliding or bunching for exceptional comfort. 
✔One Size Fits All: Free size up to 27" in length, fits your Left or Right thigh, and will comfortably fit anyone from circumference 13.8 to 28.3" mid-thigh (45 to 72 cm), ideal thigh brace for both men and women

Main Benefits:
Provides Muscle Warmth
Improves Blood Circulation and Recovery
Relieves Hamstring Swelling
Alleviate Groin Strains & Cramps
Quad support
Easy to wrap on the Quad.
Good support
Quad, Hamstring, Groin Support - Thigh Compression Sleeve ~ Targeted Relief!
Great product, did it's job!
Great help
Thanks for the support, I really like the product. I hope to be back on the softball field soon.