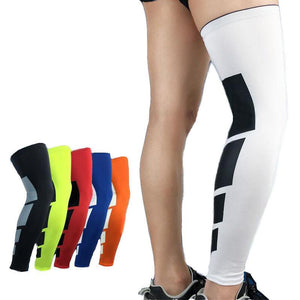 Full Leg Thigh High Compression Stockings
Reduces the Risk of Injury
• Promotes faster muscle warm up
• Minimizes muscle oscillation and micro-tearing
• Graduated compression reduces risk of deep vein thrombosis or blood clots
You Will Receive a Pair!
HIGH PERFORMANCE

 

fabric keeps an optimal joint temperature. Durable, light weight and comfortable, gives you just the right level of support, keeps your sore knees secure and warm.
COMPRESSION SLEEVE BENEFITS: Aids with joint and muscle recovery. Offers rejuvenating relief from arthritis, aches and pains. Enhances blood circulation, stimulates oxygen airflow to the muscles to boost recovery.
QUALITY AND COMFORT: Made with Anti-Itch moisture-wicking capabilities material that also Eliminates odors. The graduated compression legging minimizes injury, offers optimal muscle support between workouts and during casual everyday activities. 

Helps You Recover Faster
• Helps speed up recovery time after surgery
• Reduces swelling and fatigue from prolonged sitting or standing
• Helps relieve muscle pain
• Reduce feelings of heaviness and tiredness in the leg
Loved Them
They fit awesomely well I love the style
Comfort and style
I was very pleased with the quality and look of these stickings
Get a leg Up*
Very helpful muscle aide. Looks great with color coded outfits.
I love the support of the stocking much better than knee high
Leg Sleeve
The leg sleeve has done wonders! My left leg moves with more mobility and my basketball performance has gotten better!