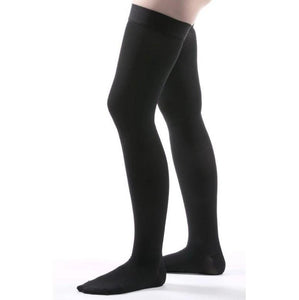 Thigh High Compression Socks - 30-40 mmHg Support Stockings
Thigh High Compression Stockings for Men and Women are designed to help relieve conditions associated with poor circulation including chronic venous insufficiency (CVI) and deep vein thrombosis (DVT). 
These stockings provide 30-40 mmHg of gradient compression and help improve blood flow,  prevent edema (swelling) and reduce the discomfort caused by moderate to severe varicose veins. 
These Medical grade support stockings are manufactured with classic styling and a smooth opaque fabric that help you to remain stylish while concealing unsightly conditions.
Featuring a silicone dot stay-up top to help individuals who have trouble keeping a thigh high support stocking in place.
Reciprocated heel and large toe box for comfort
3-D knit structure that is soft to touch and comfortable for all day wear
Designed with a roomy toe allowance for patients who require additional "wiggle room"
Reinforced heel for durability
Anti Slip silicone dot band - no more slipping! More comfort, less pinching!
Great those that need to reduce their chances of blood clotting, and for those in pre and post-operation stages, this anti-embolism support hose will certainly offer high quality compression therapy where it's needed the most. The design & construction will offer you comfort and relaxation like haven't felt from other anti-embolism stockings.
Thigh high compression socks
Work very well, keeps my leg inflammation down, because I have bad blood circulation in my legs that causes it. I have an enlarged heart and a bad heart valve.
Thigh high compression socks
Very good quality Thigh High Compression Socks - 30-40 mmHg Support Stockings. They come in a pack of 2 total. Still bought 2 packs so 4 total stockings. Will wear these for as long as possible, then buy more in the future. The pricing at Brace Professionals is fantastic as well
Thigh High Compression Socks - 30-40 mmHg Support Stockings