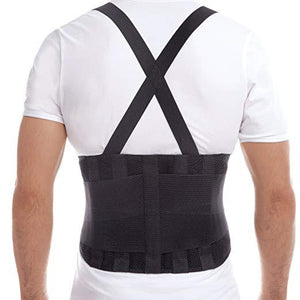 Back Brace with Suspenders - Lumbar Support ~ Improved Posture!
MEDICAL-GRADE BACK BRACE: Help prevents chronic back pain, treats lumbar strains, muscle strains, pain from overuse, and develops better back posture for sitting and working. Relieves back pain and speeds up recovery. 
ADJUSTABLE & ANTI-SLIP

: Fully adjustable with double pull elastic compression straps that you can adjust according to individual needs. Huge strips of Velcro make it stay put, with no sudden slippage.

DOUBLE PULL MECHANISM

: Double pull system with 4 flexible medical bone stays helps create targeted compression and proper alignment and increase blood flow and support. It can improve posture and helps strengthen the Abdominal muscles.

PREVENT & TREAT

:

Helps lessen lumbar strain, ease existing chronic back pain, prevent further damage from overuse, encourage proper lifting techniques, and develop better back posture for working and sitting.
GREAT FOR WORK: 

Designed to support the lower back muscles and abdomen while lifting or carrying heavy objects. Great for women who have an occupation that requires frequent lifting or bending.

BREATHABLE & LOW-PROFILE FIT: Made of premium-quality elastic, making it comfortable to wear while working or weightlifting. Comes in black neutral color and can be worn over or beneath your clothing.
Great support
Use to help with my posture from sitting at the computer for hours as well as outside when doing work in the yard/garden beds.