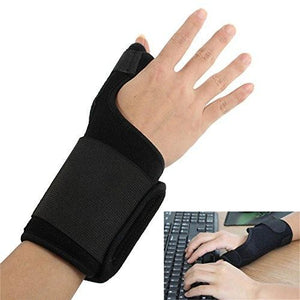 Tendonitis Carpal Tunnel Brace & Thumb Stabilizer Support Wrist Splint
Superior Technology & Design
Our simple yet effective design fits either hand. The brace can be tailored to fit any hand shape with two adjustable Velcro straps that attach to any point on the external surface. The Inner Metal Splint effectively braces either side of the lower thumb to reduce mobility, while the neoprene sleeve and strapping provide warm pressure & adequate support to the wrist.
STABLE THUMB SUPPORT: Support your thumb joints and ligaments! The Brace Professionals thumb brace restricts the movement of the thumb while supplying adjustable compression and retaining therapeutic heat to improve circulation and promote healing
REDUCES PAIN & INFLAMMATION: Our Adjustable Splint brace effectively reduces pain and inflammation incurred from injury or surgery. This is a Great support brace for managing arthritis, carpal tunnel, repetitive stress injury, post-surgery, sprains, tendonitis and strains.
VERSATILE LIGHTWEIGHT DESIGN: Fully adjustable, the lightweight neoprene brace can be worn on either the left or right hand. Three extra strength fastener straps adjust to accommodate any hand size without slipping or bunching. The neoprene is breathable & moisture wicking, keeping your hand cool and comfortable for extended wear, even while you sleep.
STRONG INNER METAL SPLINT: Isolating the thumb in a neutral position, the brace includes an ergonomically designed aluminum splint for maximum support and immobilization of the thumb. 
RELIEVE OCCUPATIONAL PAIN from carpal tunnel syndrome (CTS) and repetitive stress injury (RSI), recover from painful sports-related thumb & wrist strains, or post-surgery and post-cast rehabilitation. Speed up and facilitate a rapid recovery!