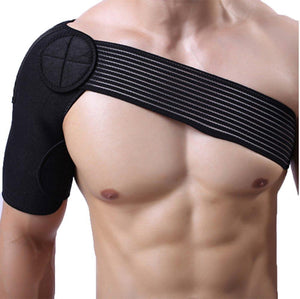 Shoulder Compression Support Brace & Strap ~ Relieve Shoulder Pain!
IMMEDIATE BENEFIT
Stabilize your shoulder and immobilize it in place, protect it from injuries and skyrocket your workouts, improve blood flow, alleviate the shoulder pain and muscle tightness.
ERGONOMIC DESIGN: This shoulder brace is designed with bidirectional adjustable stick straps on the shoulder and arm, providing strong immobilization and stability. You can adjust it to your desired fit. Adjustment is available from 28" to 40" in shoulder width circumference.
BREATHABLE NEOPRENE: Made of smooth lightweight breathable neoprene with thermal properties and the ability to contour to the body while allowing air to circulate. 
SUPPORT & COMPRESSION: Provides stability and compression support for injuries including sprains, shoulder dislocation, rotator cuff tear, frozen shoulder and arthritis. Compression helps to increase blood flow and restricts unwanted movement preventing re-injury and promoting recovery.
PRESSURE STRAPS FOR ICE OR HOT PACKS: Our shoulder support brace is designed with pressure velcro straps which can help you with some basic home remedies. If needed you can use on your own Hot/Cold packs (Not Included) to alleviate the pain.
Great shoulder brace! Felt relief the first time I used it.
-Larry Mizer 
I love it!!! Immediately i noticed a difference. Amazing what a little compression will do your pain. Wearing it is a constant reminder that I should be careful in my movements or risk re-injuring myself. After working all day, it's nice for my shoulder to call it "quits" and heal.
-Donny Harris 
Good support! I like the should support brace, helps me out and relieves my shoulder pain.
-Sam Oliver jr 
5 stars! Thanks for everything, its been exactly what I was looking for.
-Dannielle Turner 
Finally some relief
Purchased this for my husband. He was a body builder in college and then a gunner in the Army. Between the 2, he's jacked his shoulders up real bad. After starting to go to the gym again, the pain got worse and his ROM decreased. With the compression brace, he gets pain relief that lasts for days. I've also purchased the shoulder brace you can put an ice pack in. That was is FANTASTIC for reducing the swelling due to his workouts, or just daily activities, like playing with the kids. I HIGHLY recommend.
Doesn't relieve pain entirely but it helps
I am using the shoulder brace while I'm lifting weights. There is still some pain but it is mild. Without the brace I would not be able to do the weight exercises that I do.