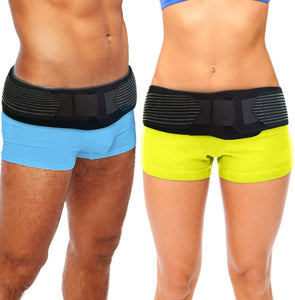 Sciatica Hip Belt Brace - Alleviate Sciatic, Pelvic, Lower Back & Leg Pain
UNISEX MEDICAL GRADE HIP COMPRESSION SI BELT -

Get sciatica nerve pain relief & Help correct the SI joint! This lower hip brace helps normalize & maintain posture, decrease nerve pain discomfort, and increases strength!

Get the back pain relief you need today.
Our Sciatica Brace is the best for fast and effective sciatic back pain relief.
The Brace helps

 

relieve tension up the sciatic nerve and hips. It helps ease discomfort in your lower back, buttocks, pelvis and legs. Just slip it on and tighten the strap, and

 

feel the pain diminish.
RELIEVES SI JOINT PAIN & LESSENS INFLAMMATION - The Everyday Medical SI joint belt is a pelvic support brace that can help alleviate pain, reduce inflammation and restore function mobility caused by by SI joint dysfunction. This simple, yet effective medical grade belt is designed to stabilize the pelvis and prevent excessive movement of the SI joint.
DUAL ADJUSTMENT & UNRIVALED COMFORT - Designed to be worn comfortably day and night. Unique comfort curved back of belt gives your body the added flexibility and comfort to be worn at all times. The wraparound dual belt offers full control over the compression and feature secondary straps which allow you to personalize the additional compression desired over specific areas. 
NON-SLIP BACK CURVED S-I SUPPORT BELT - Our sciatica belt boasts an inspired design detail; featuring 2 rubberized straps that comfortably hold the brace in place against the body and effectively minimize the braces movements, preventing it from sliding up and down while you walk, sit, stand or do other physical activities.
So far both my husband and daughter say they feel great. When you have to go to work no matter what in my daughter's case you need something to stabilize you during the day preventing further damage & pain.
-Marilyn Johnson
Amazing! Belt works amazingly, it's completely comfortable to wear all day and even I sleep with it on. I LOVE IT!
-Cindy Cruz
I really like it. I've been using the other kind of belt and had told my husband that I wanted to try a different brace. This one is much better for my problem. Thank you.
-Mary Eanes
Very comfortable and easy to wear it did help alleviate my pain. Very happy with this product
-Shannon Matajcich 
Awesome! I greatly recommend it. It has relieved my back pain, almost 100%!
-Yolanda Pena
It helps a lot!!!
I have sciatica, restless keg syndrome and fibromyalgia. Between the 3 I am almost always in some kind of pain. The belt cradles my lower back and being able to tighten it more w the secondary makes it even better. I got the sciatica leg wraps from a different company and they help too
Lumbar Brace
Love this belt! Fits around my lower abdomen. First brace I've had that actually gets low enough to support the L5 disc that gives me pain. Would highly recommend.
It's all good
The belt does everything you advertise and then some. Very comfortable to wear. Delivery was sooner than I expected. Recommend it to anyone.
Putting practice solution!
I can practice my putting much longer with much less sciatic pain. Great improvement!