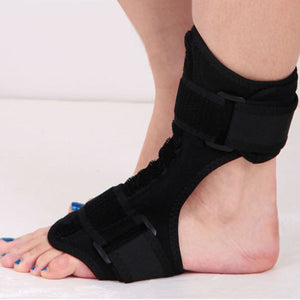 Plantar Fasciitis Relief - AFO Orthotic Drop Foot Brace - Dorsal Night Splint
This dorsal plantar fasciitis and Achilles tendonitis splint has a number of features that make it a more comfortable and therefore effective solution for dealing with these conditions. 


Simple design for a more comfortable fit
Soft night splint secures and stabilizes the foot and ankle
Low-profile night splint leaves much of the foot free
Foot splint for nighttime holds foot in an upright, plantar-flexed position
Our Splint is medically proven more effective than any other overnight treatment. The gentle stretch will relieve pain, prevent further damage.
The Brace Professionals dorsal foot night splint is more comfortable and less bulky than boot style braces.
Comfortable and Effective Dorsal Night Splint
This dorsal night splint for Achilles tendonitis or plantar fasciitis holds the foot upright as one sleeps, providing a gentle stretch to the Achilles tendon and plantar fascia and keeping these tissues from contracting. 

This simple Achilles tendonitis night splint fits securely and comfortably, holding the foot at a 90-degree angle to the ankle (plantar flexed). This enables the dorsal night splint to treat conditions such as:
Plantar fasciitis
Achilles tendonitis
Drop foot
Plantar flexion contracture
Stroke patients
Plantar foot brace
Love this brace. I'm experiencing less pain.