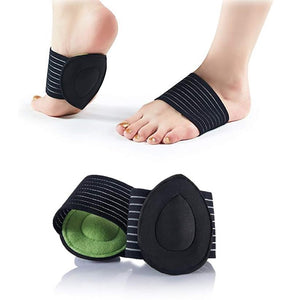 Plantar Fasciitis Arch Support Pads - Flat and Painful Feet!
Relieve the pain of plantar fasciitis when you wear these snug arch supports. These foot sleeves help lift fallen arches and flat feet, reducing pain throughout your body, including your lower back, knees, and hips. 
Podiatrist recommended

One size fits all

Helps lift fallen arches and flat feet

Reduces pain in the heels, arches, balls of feet, knees, hips, and lower back

Can help relieve plantar fasciitis pain

Sleek foot sleeves fit snugly

Underfoot padding

Works with or without shoes

FDA registered
Our Sleeves have padding built into the underside to help raise up fallen arches and flat feet, relieving plantar fasciitis and other foot pain.
Arch Support Pads
The arch support pads I received recently have greatly helped with the pains in my arches. Wish I'd had a pair of the arch support pads years ago. Thanks for having such a great product.