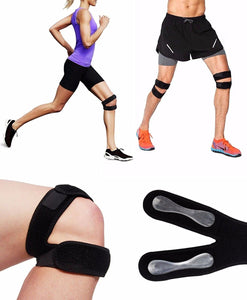 Patellar Tendon Knee Brace Strap for Torn Meniscus
IMPROVED KNEE PERFORMANCE

 

- Additional strengthening occurs in this all-around knee support by applying pressure on the tendon above the kneecap, reducing forces of the quadriceps on the patella tendon and erosion of the under-surface of the kneecap
MAXIMUM SUPPORT & MOBILITY - Unique design provides maximum support above and below the kneecap without restricting movement. The ideal product for reducing pain and improving mobility so you can keep doing what you love to do!

Order Two For a Pair!

EASY TO WEAR - Comfortable, easy to put on and take off, can be worn under or on top of pants, adjustable straps. 
ERGONOMIC SHAPE

 

Silicone Pads can provide stronger support and relieve knee pain. The Silicone inserts absorb shock by providing the pressure on the nerves and tendons. The silicone compression pad is resilient and can contour to your kneecap tightly.
Dual Action Bands Provide Relief for:
- Runner's & Jumper's Knee
- Weak Knees
- Misalignment of Quadriceps (Q Angle)
- Patellar Tendonitis
- Osteoarthritis
- Pain Above/Below Knee
- Distance Runners
- Chondromalacia Patella
- Walking Down Stairs
- Osgood Schlatter's Disease
- Lateral & Medial Pain
TESTIMONIALS
True Support! Two weeks ago I received your product and used them. Each item worked as stated and I welcomed it. I have pain in knee/quad area and need the stability when working out thru the pain.I'm glad your advertisement reached me on the internet. I thank you so very much!!!!
-Derrick Lynch 
Knee is pain free thanks to this product. Suffered a long time with a Meniscus tear and this works great . Thank again
-Anthony Calfapietra
Excellent Device! I am an avid bicyclist. I cannot ride my bike without support for my knee. Other knee support straps I have used continuously slipped down requiring me to pull them up. The Brace Professionals Knee Strap provides excellent support and it stays in place. I would recommend the support without any reservation.
-Ronald Schaefer
I have a knee that thinks it's in charge. Now I am in charge. 
Your knee support strap is great!
-Paul Lehmkuhl
Excellent!!
I tore my meniscus and being an avid golfer I needed something for support. This brace is easy to put on and comfortable to wear.