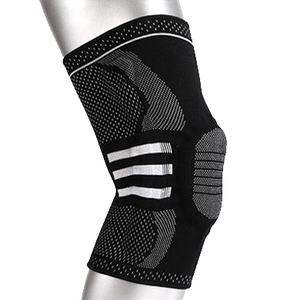 Patella Stabilizer Support & Compression Knee Sleeve Brace with Silicone
The
 Knee Sleeve gives athletes the confidence to go all-out. Sports Knee Support improves circulation and stimulates muscle regeneration. The unparalleled comfort, breathability, and durability protect your knees and helps maintain peak performance.
Improved confidence and increased coordination - Medical standard compression not only boosts circulation but also provides positive sensorimotor feedback, also known as proprioception. This enhanced feedback can translate to improved confidence and coordination.
Brace Professionals most popular knee support Newly Improved 3D Knit Knee Brace is anatomically knitted for a precise fit and features a stability silicone insert to secure your knee cap & patella. Our knee support brace relieves knee pain and swelling during sports or everyday activities.
Graduated compression at the edges prevents constriction of circulation
Innovative knitting to prevent bunching or pinching
Medial and lateral stainless steel stays to help in support & stability and keep the sleeve from rolling or bunching
Comfortable, Moisture-wicking & breathable material will not retain heat and is machine washable.
Protection against overloading joints
The anatomically contoured silicone gel pad surrounding the knee cap captures and redistributes pressure to protect against overloading the tendons and knee cap. The silicone gives phenomenal stability & confidence to your patella and meniscus. 
Compression for optimal athletic performance - Provides medical standard compression to boost circulation and reduce damaging muscle vibrations.
Coming back for sure
Both items came in super quick and all the knee sleeves and pads hold up for all my wrestling practices, they stay in place and the knee pad foam doesn't bunch up. Which is verry good.
Patella Stabilizer Support & Compression Knee Sleeve Brace with Silicone
They're great and customer service/shipping was also excellent