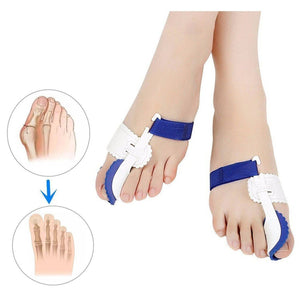 Bunion Corrector Brace & Splint ~ Pain Relief!
Immediate Bunion Pain Relief

 

- End bunion pain & straighten the big toe. The Bunion corrector brace uses mechanical force to realign your toe to its natural position.
A UNIQUE Bunion Treatment: It applies a 3-point pressure system to relieve the hallux valgus deformity and correct the big toes to its natural alignment. Ease big toe pain and soothe your sore feet at night; get straightened toes next day. Cure the pain in big toe joint, tailors bunion, hallux valgus and much more.
Restore Your Natural Alignment: The brace will gently realign your big toe to its natural position. Flexible hinge makes it comfortable to use at home when relaxing & as a night splint 
EFFECTIVE BUNION PAIN RELIEF: Designed by an orthopedic surgeon and recommended by podiatrists. There is no pain or recovery time associated with use of this product, unlike surgery. 
Bunion Complications- Ingrown nails, Hammertoe, Metatarsalgia, Bursitis, Blistering, Corns, Callus Progress in size and severity may develop into a severe foot deformity and difficult to walk. It is scientifically proven that non-surgical treatments can result in pain relief and permanent toe correction.
bunion regulator
I purchased this to wear at night to maintain my toe alignment after surgery. It's comfortable and effective.
Brace Professionals Bunion Brace
I have had a very good experience with the bunion brace. I wear it at night and it helps to straighten my big toe.