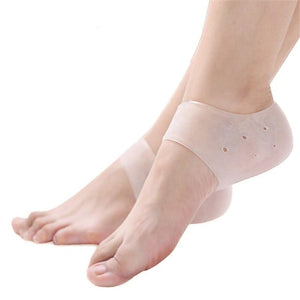 Heel Spur Relief - Massage Gel Cup Pads for Plantar Fasciitis
Benefits
• Dry,Cracked Feet And Peeling. 
• Soften calluses, also has a moisturizing effect. 
• Relieve heel pain, heel pressure with extra cushioning. 
• Provides a layer of soft, cushioning gel, which shield your heels from irritation. 
• Relieve fatigue,and promote foot micro circulation. 
Comes as a Pair!

FEEL INSTANT HEEL PAIN RELIEF Soft Silicone Gel Heel Sleeves help relieve Chronic Plantar Fasciitis Soreness and from your Sore Hurt Heels. Protection and Treatment for Bone Spurs, Aching Feet, Stress Fractures, Sprained Foot, Tendonitis, Morning PF Pains, Cracked Heels & Bruised Heels.
FAST ACTING: Quick and Effective. Wear insole inserts comfortably with any Shoes, Sneakers, High Heels, Boots ,Sandals, Flip Flops, Slippers or Barefoot when walking around the house, at work or in the Office with Socks. 
COMFORTABLE FOR DAILY WEAR:

 

Gels Silicon Heel Pads reduce pain from tired feet quickly. They gives Arch Support for Flat Feet. The Orthotic Heel Protection Cup and Cushions provide shock absorption and remedy for bruised heels.
PROVIDES COMPRESSION: This sleeve provides compression that helps to alleviate pain from fallen arches. Absorbs shock from heel strike which will prevent heel spurs that often follow plantar fasciitis.Soften the calluses, moisturizing whitening 
MADE OF MEDICAL GRADE SILICONE: Lightweight and Breathable with added air holes. Soften impact on your feet and heels. Our insoles are ideal for Running, Exercising, Standing, Even Plantar Fascia Night Splint Brace and Bed Sore Prevention.
Very good product!!! Very comfortable!!