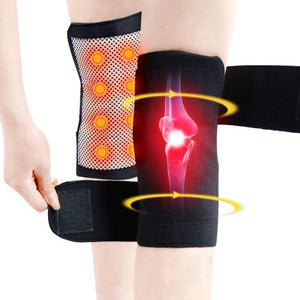 Magnetic Therapy Self Heating Knee Support Wraps ~ Pain Relief!
Magnetic therapy has been used for hundreds of years. It is an alternative medical practice that uses therapeutic magnets to alleviate pain and other health concerns. Many well-conducted studies over the past decades have shown that magnetic bracelets and knee pads really work. Healers in Asia and Europe are using these magnets for hundreds of years to draw diseases from bodies. 
Relieve knee pain INSTANTLY with the help of these Self-Heating Knee Support Wraps! Knee pain is the most common complaint that brings people to their doctor. As society gets more and more active, the number of knee problems is steadily increasing. You may already have heard about heat & magnetic therapy being a terrific way to ease knee pain. It is especially good if you suffer from arthritis, rheumatism or muscle stiffness.
What's absolutely unique about these knee braces is the implementation of tourmaline fiber and magnets which provide a true magnetic therapy experience. 
Adaptive Infrared Heat Therapy Technology
Strategically placed Self-Heating Tourmaline Magnets
Stimulates knee acupressure points.
Radically improves blood circulation in the knee area.
Effectively relaxes your knees and joints!
Alleviates physical fatigue, inflammation, and pain.
Regulates the nervous system.
Recommended for people suffering from body chills, arthritis, bone hyperplasia, arthralgia, and/or leg muscle pain.
Also ideal as knee support for athletic or highly active people.
Safe, Comfortable and Breathable
Makes a great gift

 

for yourself or for the people you care about.
We implemented just the perfect amount of these tourmaline magnets into our knee pads to keep your bioenergetic field in perfect balance while drawing the pain from your body at the same time.
HOW TO USE
Wear directly on the knees.
After 5-10 minutes, you will feel the heat.
For best results, use at least twice a day for 3 hours each time.
Self heating knee wrap
Great price and shipping was very fast. The wraps work great. Was a bit skeptical about the self heating but that is what they do. Very pleasantly relieved when they got warm and eased my knee pain. I use them every evening now before bed for a pain-free night
Magnetic Therapy Self Heating Knee Support Wraps ~ Pain Relief!
Great!
Very good for treatment of knee pain once a day while at rest watching tv. I like them.
Magnetic Therapy Self Heating Knee Support Wraps ~ Pain Relief!
Independence
I love my knee brace. It relieves my pain and allows me to walk with more confidence. I can put my knee brace on without assistance and that is very important to me.