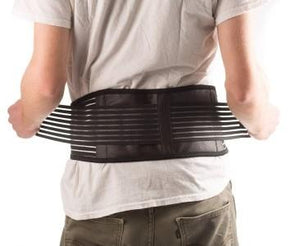 Men's Magnetic Therapy Self Heating Back Brace
Self-Heating Magnetic Therapy Back Support uses a Nano infrared thermal acupuncture dot matrix – a self-heating system that warms and relieves all causes of back pain without the use of any dangerous chemicals – increasing blood flow, relaxing muscles, and soothing pain.
Get powerful instant relief and accelerated recovery from back pain and stiffness!
Back pain is highly debilitating, painful, and will STOP life in its tracks. Back and spinal problems can lead to serious and expensive damaging complications – emotional and physical if left untreated.
SIZE CHART
S - Waist 26" - 30"
M - Waist 30" - 32"
L - Waist 32" - 36"
XL/XXL - Waist 36" - 42"
Thanks to this

 

Self-Heating Magnetic Therapy Back Support

 

that combines clinically proven magnetic therapy with ionic heat treatment for long-lasting, fast-acting treatment for all types of back pain.
FEATURES:
Bio-magnets.

 

Self-Heating Magnetic Therapy Back Support

 

uses nano infrared heat technology for long-lasting pain relief. 16 bio-magnets for quick pain relief by increasing blood flow and relaxing muscles
Thick elastic fiber cloth for even more support
Adjustable to your body shape, lightweight to use
Tourmaline beads are embedded in the padding which produces natural and chemical free heat when they come in contact with the skin.
Testimonials
I have spent over 6000 dollars this year with doctors... to get no relief... Put on this brace and my pain is gone........ THANK YOU!!!!! THANK YOU!!!! I LOVE IT!!!!!!
-Dwayne Case
I have a renewed outlook on my life since I started using the Brace Professionals back brace.
-Drenda Thompson 
Thank you so much Brace Professionals for this new back brace. Reminding myself to sit up straight has been a struggle but with this brace it IS possible to have constant correct posture I never thought I could achieve!
-Breanna Mini