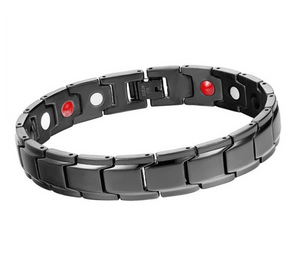 Magnetic Therapy Bracelet - Arthritis Pain Relief ~ Effective & Powerful!
Are you experiencing any of the following issues?
Arthritis, Joint Pain, carpal tunnel, tennis elbow, tendonitis, repetitive strain injury (RSI)
Pain and inflammation in the knees, shoulders, arms, wrist or hands.
Poor circulation associated with diabetes; cold hands and feet.
Difficulty sleeping, anxiety, migraine headaches, fatigue, or stress
Our mission was to create magnetic therapy jewelry that individuals would want to wear each and every day. We were able to make this a reality by combining stunning designs with the most powerful wellness magnets. Our magnetic therapy bracelets are designed to optimize your natural positive energy, increase blood circulation, and have been proven to provide relief from muscle and joint pain. Discover for yourself why millions of people are wearing magnetic therapy bracelets every day - you won't want to leave the house without it!
Bracelet Length is 8.5", any jeweler or watch repair shop can remove links to adjust the bracelet to your desired size. 
Handcrafted with biomedical-grade stainless steel which is safe to wear, durable, and will not tarnish.
Made with powerful rare earth neodymium magnets that won't lose their strength over time and can significantly increase the effectiveness.

In addition to the normal magnets we have also added Germanium, Negative Ions, & Far Infra-Red

Slip on the bracelet and you're done. It's that easy to unleash the benefits!
An alternative health solution that has no side-effects (finally!)​
   Helps Your Body To Help Itself!
Magnetic therapy has been used for years to help reduce inflammation, alleviate pain, and improve blood circulation.
It is also used to reduce stress & anxiety, improve sleep, and enhance overall well being.