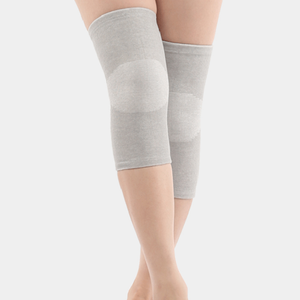 Knee Brace Compression Sleeve infused with Bamboo Charcoal
PHENOMENAL PROTECTION -   The Knee brace applies stable pressure across your knee joint, which provides ultimate pain relief from a variety of ailments including arthritis, swelling, tendonitis, meniscus tear, soreness, stiffness, ACL, PCL, MCL, and other knee pain.
SOLD AS A PAIR
The bamboo & charcoal infused fibers promote increased blood flow, regulation of temperature, and delivery of a greater supply of oxygen and blood to the targeted area
Bamboo charcoal blend makes this knee brace ideal for anyone experiencing discomfort related to circulatory issues or anyone who has suffered a sports-related injury, arthritis, or other knee condition
CONFIDENCE IN YOUR KNEES - The knee compression sleeve is scientifically engineered for optimal knee function. Manufactured for unbeatable support and reduction of knee pain & inflammation. 
IMPROVE ATHLETIC PERFORMANCE -    All physical activity puts your knees under stress. The compression knee sleeve offers support, and increases blood & oxygen flow, enhancing performance and recovery. 
PREMIUM QUALITY: Our Knee sleeve is manufactured to provide superior support, comfort, and relief without compromising your mobility. Tight, form-fitting, and breathable compression fabric maintains joint stability regardless of activity, helps improve blood circulation, and eases pain. Quick at absorbing sweat and keeps your leg dry and odor-free.
Amazing!
I have a lot of swelling in my legs, they get very tired and recently my left knee has started to lock after sitting longer than than an hour. My Bamboo/Charcoal knee sleeve seems to give comfort to all my leg needs!! I actually have 2 pairs, in 2 sizes, which help in different ways. And, Oh, did I mention the warmth that they have....I suspect they encourage blood circulation. I'd love to know how this unlikely combo of Bamboo & Charcoal make such a difference!?? A great product.
Help my knee
Helped my knee feel alot,been bad 4 years,feels much better now