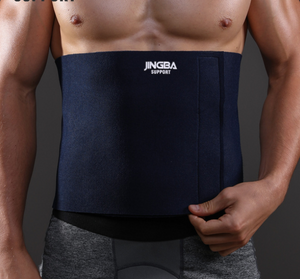 Hernia & Abdominal Support Stomach Binder
EFFECTIVE HERNIA SUPPORT: Recommended for hernia support before and after surgery, or as an alternative to surgical treatment for reducible hernias. Designed to help with Umbilical, Incisional, Epigastric, Ventral, or Inguinal Hernias , abdominal contusions or protrusions.
FULLY ADJUSTABLE ONE SIZE FITS MOST - Waistlines 30"to 42"
HIGH QUALITY BREATHABLE MATERIAL: Durable, breathable, flexible, moisture-wicking elastic blend fabric that keeps the body cool, dry and comfortable, and provides stability without restricting movement.
DISCREET DESIGN: Discreet, comfortable design allows you to wear the hernia truss for extended periods of time under regular clothes.
INNOVATIVE FEATURES FOR MAXIMIZED EFFECT: The construction of the fabric allows the belt to conform to the shape of the body and provide comfortable compression. Velcro fastening of the binder allows for controlled fit and compression.
INSTANT RELIEF, COMFORT AND RECURRENCE PREVENTION: The umbilical hernia belt offers instant pain relief and ensures stable support for the hernia site, promoting the healing process in a faster and more comfortable way and preventing recurrence. 
You may be able to postpone hernia surgery or choose not to have it at all if a hernia is small.
 If you are waiting for surgery, wearing this hernia support band will greatly reduce your discomfort. 
 If you do have surgery, your bulging intestine will be pushed back through the hole in your abdominal wall, then the hole will be sewn shut. You won't be able to do much physical activity until you are completely healed, leaving your stomach vulnerable to muscle loss.
 You can wear this belt to provide compression and support to your abdominal wall so your muscles heal properly. Hernia support belts protect your incision site and reduce the chances of your hernia recurring.
[****] it's a great binder nothing but good support fit ! Thank you
Stomach Hernia Binder
I'm using it for a week now and it seems to be working well.
I would recommend it.
My constant companion
I'm so happy I found your company, I can now work in my yard with peace of mind wearing my well- made abdominal binder. Thanks so much
Hibernating hernia
My hernias dont bother me as much now!,using your product relly keeps my hernias in place and quiet !,need to order another one ,i like how this binder keeps its strength and in place when im moving around during my work hours and thruout my long days.sweat is no match for this binder!! thanks again this binder really hushes my hernias and i have two of them one on top of the other😟😬!!!!.
Nice Purchase
So far it looks like I may get some benefit from wearing the brace. Time will tell. The brace is of acceptable quality also.