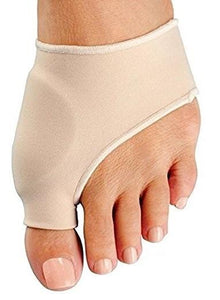 Gel Bunion Cushion Pads for Pain Relief! - Can Be Worn With Shoes
ENJOY BUNION RELIEF!

 - Get relief from painful and aching feet and toes resulting from tight-fitting shoes and otherwise.

COMPLETE BUNION PAIN RELIEF: Helps with discomfort, pressure, and inflammation caused by bunions. Cushions and supports the bunion area so that you can take every step with renewed comfort.
ABSOLUTE PROTECTION: Natural gel protects skin while walking and exercising. Gel pad acts as a buffer to shield the sensitive bunion area to prevent painful rubbing from occurring. 
BUNION RELIEF THAT CAN BE WORN WITH SHOES: This bunion protector can be worn discreetly under shoes, socks, and stockings for undetectable protection. 
Excellent Bunion Pads for Exercise. If you're active and need to fit a sleeve under sneakers but also want a sleeve with stronger support and correction, get this one. Effectively reduces pain. Stays in place, it doesn't slide around when you move.
MADE OF QUALITY MATERIALS: Utilizes the best materials to produce a perfect product. Made of durable, medical grade materials to instantly reduce daily discomfort of bunion and hammertoe pain. 
It is helping with my toe pain.