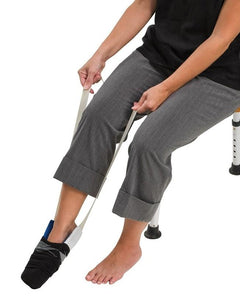 Deluxe Sock & Stocking Puller Assistant Aid - Easy Up Compression Helper Tool
Are you having problems putting on your compression socks in the morning?
Bending down to reach your feet seem impossible sometimes?
A sock puller is the answer.
Made with smooth terrycloth and elastic pullers, this "compression sock horn' is designed to help you get your foot into the foot sleeve(the hardest part), so all you have left is to pull your socks up to your desired height.
The Brace Professionals Sock Aid Assist Device: Helps individuals put on socks or stockings easily and independently. Ideal sock slider for those having difficulty to bend down, recovering from back, knee or hip replacement surgery or for those with limited mobility.

Allows you to put on socks or hosiery independently with 4 easy steps.  It is an ideal sock or stocking puller tool for those who have difficulty to bend over, have limited mobility.
Perfect for people with limited mobility due to arthritis, hip, knee or back injuries.
The two 29" long loop handles on this deluxe stocking and sock aid reduce the need to bend.

Flexible plastic core has a unique three finger design that holds stockings easily with nylon interior to reduce friction.

Terrycloth exterior prevents sock from slipping.
So Easy
Had hip surgery - sure made it a lot easier putting on compression socks!!!
Game changer
I had major back surgery and cannot bend over to put my socks on! Now I can put my socks on myself without having to ask someone to do it. This is great!
Easy Sock Puller
This is so much better than the previous sock aid I had earlier. It is very manageable and easy to store. It is also easieer on the feet than some others.