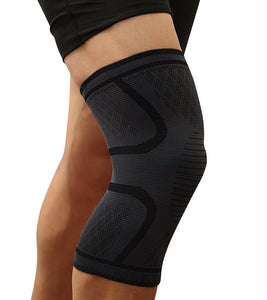 Knee Brace - Compression Support Sleeve ~ Lift and Rise!
PHENOMENAL PROTECTION -    The Brace Professionals™ Knee brace applies stable pressure across your knee joint, which provides ultimate pain relief from a variety of ailments including arthritis, swelling, tendonitis, meniscus tear, soreness, stiffness, ACL, PCL, MCL, and other knee pain.
CONFIDENCE IN YOUR KNEES - The

Brace Professionals™'

 knee compression sleeve is scientifically engineered for optimal knee function. Manufactured for unbeatable support and reduction of knee pain & inflammation. 
IMPROVE ATHLETIC PERFORMANCE -    All physical activity puts your knees under stress. The

Brace Professionals

™ compression knee sleeve offers support, and increases blood & oxygen flow, enhancing performance and recovery. 
PREMIUM QUALITY: Our Knee sleeves are manufactured to provide superior support, comfort, and relief without compromising your mobility. Tight, form-fitting, and breathable compression fabric maintains joint stability regardless of activity, helps improve blood circulation, and eases pain. Quick at absorbing sweat and keeps your leg dry and odor-free.
ANTI SLIP SILICONE PREVENTS SLEEVE FROM SLIDING AROUND
TESTIMONIALS
I have been searching for two things: A brace big enough to go on my leg and a brace that would stay in place. This brace does both well. Thank you!
-Rick Flickinger

I have tried several different knee braces and supports, all of which disappointed me. I bought your product with a lot of skepticism but figured I had very little to lose. I am amazed! This is the first knee brace that actually supports my knee! I am able to stand for hours with no pain! Let me repeat that - NO PAIN! I have been telling everybody I know who suffers from knee pain to try your product. Thank you!!!!!
-Judith Flynn
My daughter has a lot of trouble with her patella sliding around and snapping back into place. She absolutely loves this new brace/sleeve! It helped her make it through a very active show choir audition! Thank you!
-Kim Langley
Stabilizer provides excellent support to the left knee that was replaced 20 months ago. I have returned to walking my Bulldogs and bowling without fear of knee giving out. The added support has decreased my anxiety. I also occasionally wear it at work because of the amount of time spent on my feet.
-Barbara Ross
Awesome sleeve!
I love it. My other knee braces made my knee sweat a lot. This one breaths nicely. Fits great. Nice support.
Knee brace
On my feet 8 hours a day. This really helps the aches .
I really like wearing the brace, helps my knee and it's very comfortable...