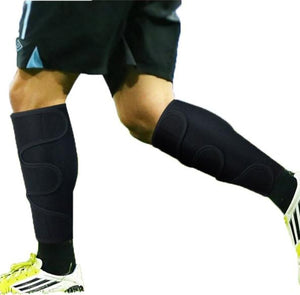 Calf Compression Sleeve Wraps - Reduce Shin Splint Swelling & Increase Blood Flow!
PAIN RELIEF NOW! -

If you've ever dealt with Shin Splints, you know the discomfort and outright pain they can bring. Feel more confident to stay on your feet and avoid that unwanted pain as well as muscle cramps while you travel, work, or play! No matter if you're a runner, nurse, are pregnant, or just experience occasional leg pain, our sleeve is just what you need!
Make it a Pair and order two!
QUALITY AND COMFORT: Made with Anti-Itch moisture wicking capabilities material that also Eliminates odors. The compression calf sleeve minimizes injury & pain, while offering optimal muscle support.
COMPRESSION THERAPY TECHNOLOGY - Provides strong yet adjustable compression to promote blood circulation and oxygen flow. Prevents injuries such as cramping, fatigue, soreness and swelling. Perfect for muscle recovery, Calf injuries, Shin splits and varicose veins.
GET INSTANT RELIEF - Do you suffer from shin splints, calf pain or swelling in your feet? Do you travel a lot or are on your feet all day? If yes you'll love our compression sleeves. These shin splint & calf compression sleeves aid in mitigating shin splints, preventing calf cramps, protects legs from minor scratches & knocks. 
DESIGNED FOR EVERYDAY USE - Bring more energy into your feet. Designed for extra support of the posterior & anterior calf muscles & Achilles tendon. Pin-point compression provides targeted support where it is needed the most. 
Great product
Only ordered one but works do well ordered another.
Calf wrap
Still too early for judgment
Four stars for delivery time
Awesome
I ordered wraps several times and every time I received the quickly, I would recommend this company to anyone who needs these wraps. They are awesome.
Calif compression sleeve wraps
They work like I hoped they would their light no weight on the legs they don't dry out the skin on the Califs they're to put on and take off.
Easy on, easy off. I like that it's adjustable, too.