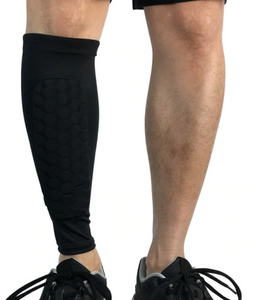 Calf Compression Sleeve Guards - Shin Splints & Calf Pain Relief
PAIN RELIEF NOW! -
If you've ever dealt with Shin Splints, you know the discomfort and outright pain they can bring. Feel more confident to stay on your feet and avoid that unwanted pain as well as muscle cramps while you travel, work, or play! 
SIZES BY CALF CIRCUMFERENCE
Medium - 10" to 13"
Large - 14" to 17"
X-Large - 18" to 20"
ADVANCED TECHNOLOGY: Pad pods beautifully conform to your leg during bending and moving to give you ultimate flexibility and protection. We achieve this through individually casing each pod and NOT one big pad with cut grooves that just fake the look
GREAT FOR - Weightlifting, Soccer, Football, Hiking & many other physical activities and sports. 
QUALITY & COMFORT: Made with Anti-Itch moisture wicking capabilities material that also Eliminates odors. The compression calf sleeve minimizes injury & pain, while offering optimal muscle support.
COMPRESSION THERAPY TECHNOLOGY - Provides strong yet adjustable compression to promote blood circulation and oxygen flow. Prevents injuries such as cramping, fatigue, soreness and swelling. Perfect for muscle recovery, Calf injuries, Shin splits and varicose veins.
GET INSTANT RELIEF - Do you suffer from shin splints, calf pain or swelling in your feet? Do you travel a lot or are on your feet all day? If yes you'll love our compression sleeves. These shin splint & calf compression sleeves aid in mitigating shin splints, preventing calf cramps, protects legs from scratches & knocks. 
DESIGNED FOR EVERYDAY USE - Bring more energy into your feet. Designed for extra support of the posterior & anterior calf muscles & Achilles tendon. Pin-point compression provides targeted support where it is needed the most. 
Calf/shin guard are great for my profession as an umpire, thanks for your product
Great product
Right now I have been using when mountain bike riding to help with pedal strikes. Good product.
Shin guards
Best purchase I made for cycling attire. The shin guards have protected my previously bruised shins from stones and pedal kick backs.
Good quality shin protectors.