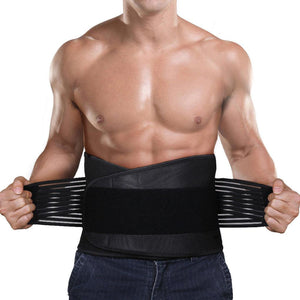 Lower Back Support Brace & Lumbar Pain Relief
COMFORTABLE AND DURABLE - Designed for comfort with a back panel for additional lower back support. Equipped with a back crossover, heavy-duty elasticized double-pull mechanism to easily adjustable compression. 
IMPROVES POSTURE - Brace Professionals gives you extra lumbar back support by keeping your back in an upright and extended position. This helps facilitate good posture and keeps you from sitting in a slouched position, further alleviating lower back pain. 
See Size Chart!
PROVIDES SUPPORT - The Lumbar Support Belt provides added support along the spine through compression and heat retention for those suffering from lower back pain, while still allowing you freedom of movement via its flexibility. 
PAIN RELIEF - Our back support braces are made with a high-quality 100% latex-free neoprene material which provides warmth, easing back muscle spasms and lower back pain associated with spinal stenosis and herniated discs. 
Through its double compression support, the brace keeps all of your injured muscles, ligaments, and tendons in place, allowing those injuries to heal while you remain active. It is designed specifically to help reduce unwanted twisting movements, so people with occupations where lifting or strenuous activity is involved will benefit especially while wearing it.  
TESTIMONIALS
My husband doubted that this would work for me since I have a big belly but after the second day using it I found out how to wear it properly and my back feels sooo much better and I can stand for longer! I love it. So glad it's affordable and I'm my size! It's also comfortable and shipping was fast

-Annie Strickland


Finally, Back Support That's Working! So appreciative for a back support belt that actively works with me, not against me as I move... Thank You
-Darlynn Johnson


I love it! It helps when I lift heave cases at work !
-Debbie Murphree
Brace
Brace fits well and helps my back
I waited too long.
I walk with a cane, and shoot trap and sporting clays. Standing on the trap line was painful and with the belt I can move through the five stations without pain. Just walking around the home is better.