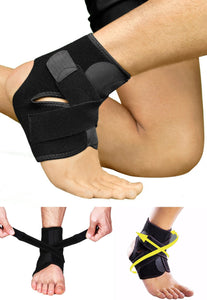 Ankle Brace Stabilizer with Adjustable Support Straps
PREMIUM QUALITY Our Double Strap adjustable OPEN heel ankle brace is manufactured to provide superior support, comfort, and relief without compromising your mobility. 
IDEAL FOR ANKLE HEALTH - Designed to minimize the risk of injury especially during the strenuous activities, also helps to relieve swelling edema and symptoms associated with acute injuries, which is ideal for sprains, tendonitis and arthritis.
ANTI ODOR & ANTI ITCH - Made of high-elastic and moisture wicking material. Interlayer with perforation design allows oxygen circulation to eliminate odor and prevent bacteria from breeding. 
MULTI-USE: Whether it's plantar fasciitis, heel pain, arthritis, heel and arch support, achilles tendon injuries, a twisted ankle or other soft tissue and sport-related injuries, our ankle brace will provide symptom relief in style!
Ankle Brace Stabilizer with Adjustable Support Straps