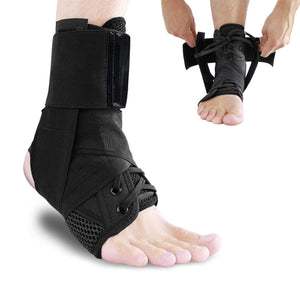 Ankle Lace Up Brace with Adjustable Support Straps
Compression for optimal athletic performance - 
The ankle Brace provides medical grade compression to boost circulation and reduce damaging muscle vibrations. Joint, tendon and ligament loads are reduced.
Adjustable straps for improved ligament stabilization - The figure eight strapping system provides the same stability as athletic taping, but is much simpler to apply, gentle on the skin, breathable and easily fits into a shoe. In addition, the strap maintains its stability during rigorous activities, unlike tape.
Improved confidence - Medical standard compression not only boosts circulation, but also provides positive sensory motor feedback. This enhanced feedback can translate to improved confidence and reduced injury rates.
Maximum breathability and comfort - Our brace is super comfortable, breathable and is made of moisture-wicking materials for great odor control 
DUAL FIGURE-8 STRAPS - Figure eight elastic straps mimic taping and deliver arch and ankle joint support
PREVENTS and/or helps RECOVER from common ankle sprains

SUPPORTIVE Design simulates athletic tape with figure-8 strapping pattern

COMPRESSION and COMFORT top strap for custom fit

ADJUSTABLE without unlacing or removing shoe

BREATHABLE ventilated tongue

COMFORTABLE padded lining reinforces closures
Provides Support
This brace provides great support and is easy to use. It has allowed me to ride my horse and be active.
Great ankle brace
This is a great ankle brace and I like the way you can tie it up like a shoe so you control the support where you need it
As good as tape
The brace by far exceeded expectations and it is easier on the skin than tape. It was used on a probable chipped fibula with accompanying ankle sprain including hematoma. The brace easily stabilized the ankle. Walking did not involve "walking over" a boot (making the hip very sore). Easily worth it.
MommaB
I got this ankle brace for my husband as a spare,
so I can wash the one he has and he still would
have a GOOD solid brace. We are very satisfied
with this brace. Great brace for a very good price.